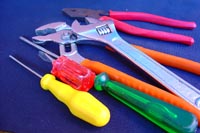 Home Sweet Home Watch will respond immediately to any irregular conditions encountered during an inspection. The primary goal is to get the situation under control as quickly as possible. If the condition needs immediate attention, the appropriate company or person will be contacted for resolution. The homeowner will be called and notified of the situation and the steps taken to resolve it. If the problem does not need immediate attention, Home Sweet Home Watch will call the homeowner to outline available solutions before any action is taken. Home Sweet Home Watch works with qualified and reputable professional individuals and/or companies to handle plumbing repairs, electrical repairs, handyman services, snow removal and any other services your home may require.
Home Sweet Home Watch
schedules and monitors all work being done on your property to insure the highest quality of workmanship possible.